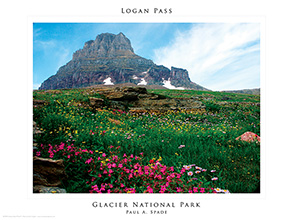 Now BRAND NEW Glacier National Park Logan Pass 18"x24" Photographic Poster
The wildflowers in Glacier National Park are absolutely beautiful and worth your trip to Northwest Montana. Different wildflowers can be seen at different times of the summer.
This beautiful 24"x18" poster was created from a photograph shot from the Hidden Lake Trail just above Logan Pass. Although the Park has brilliant displays of wildflowers most every year, the photo in this poster was shot during an exceptionally beautiful season several years ago.
Logan Pass, July 4th, 2008 the long anticipated opening of the Going to the Sun Highway and Logan Pass for 2008 occurred on July 2nd. Huge drifts and avalanches prevented the crews from breaking through. This was one of the latest openings since 1943 during World
War II when they opened July 10th.
The day was beautiful, with temperatures running in the upper 60s and lower 70s. There was a Bighorn Sheep in the parking lot and others just off the lot on the lower side.
I have included a photo of the dug out sidewalk leading up to the Hidden Lake boardwalk. I didn't bring my snow shoes so did not attempt to walk on the 8 ft drifts leading to Hidden Lake.
More descriptions of opening day are included on the Going to the Sun Highway page and the Many Glacier page where I have included photos of a moose that was along the Swiftcurrent Nature Trail.
"Logan Pass ,May 24 2005 I went up to see what was going on. The pass was cleared and open for travel Sunday May 22, 2005. It was raining like mad in the valley so I couldn't see going up. I figured the photos wouldn't be that good.
However, today when I went up, it was beautiful. The sun was shining and I had a beautiful blue sky with a touch of clouds when I went up. I caught some mirror like reflections on Lake McDonald on the way up. Then caught some beautiful photos up at Logan Pass.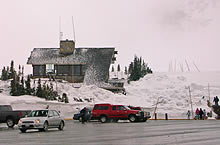 I will post the photos as soon as I get them developed. Looking at the 2004 photos, it looks like we have a lot more snow up there this year (of course we are a week or so earlier too!) Just like last year, the weather turned on me and there was a touch touch of snowfall on the way down (this turned into rain by the time I was halfway down the Going to the Sun Highway.
Check back for update! I took some great photos including a motor home going through the "Big Drift" area. The top of the drift was twice as high as the motor home!
Last year Logan Pass opened for the 2004 season on May 30th, 2004 and I was there for the opening. Although the trip up the west side from Lake McDonald was beautiful, the pass still had remnants of winter. The parking lot was completely plowed and several cars had made it before me. A mini snow squall came through while I was sitting there wondering how the mountain goats and Big Horn sheep could possibly survive the many dozen feet of snow that falls every winter. "
Logan Pass in Glacier National Park, offers some beautiful mountain views as well as close ups of Mountain Goats, Bighorn Sheep and beautiful wildflowers.
"I took my time going back down, taking some photos as I went. The sites were beautiful and breathtaking as they always are in Glacier National Park. There was some rain mixed with snow much of the way. But periodically the clouds opened up and offered beautiful views of the west side of the park such as this view of the McDonald valley.

Paul A. Spade
See the collection of Logan Pass photos available in a limited edition of signed, fine 18"x12"prints or as stock photos. Click on the images for a larger view. You can order any of the images by calling TOLL FREE 877-229-3414 or 406-892-4484. We are creating a shopping cart at this time and should have this completed soon for those that want to purchase online. We accept Master card and Visa.

Hidden Lake 016 Photograph taken above Logan Pass on the Hidden Lake Nature Trail. The fields are alive with wildflowers everywhere.
All photos are available as stock photos or as prints.

Order number Hidden Lake 018 Price $90.00 18"x12" Print only
This photograph over looks the West Side of Going to the Sun Highway.

Order number Hidden Lake 019 Price $90.00 18"x12" Print only
More wildflower s and rocky cliff

Order number Hidden Lake 021 Price $90.00 18"x12" Print only
I included a little of the cedar board walk stairs to show how close to the Hidden Lake Nature Trail I was when taking this photo.

Order number Hidden Lake 021 Price $90.00 18"x12" Print only


Order number Hidden Lake 024 Price $90.00 18"x12" Print only
Lewis Monkey flower beautiful wildflower taken along the Hidden Lake Nature Trail.
Order number Hidden Lake 035 Price $90.00 18"x12" Print only


Order number Hidden Lake 036 Price $90.00 18"x12" Print only

The summer of 2003 brought wildfires into Glacier National Park, and periodic closure of this beautiful stretch of road over the continental divide. For those who did not get a chance to see the scenes of Mountains, valleys, waterfalls, the weeping wall and beautiful wildflowers and animals, I would like to suggest that you purchase our ten screensaver cd of the different areas of Glacier National Park. Included on the cd are also 10 background images of the different areas in 800x600 resolution. We also have a subscription membership where you can download unlimited screensavers and background images for up to one year.
We accept Master card and Visa. All CD's are shipped via US Post Office. The CD is $19.95 and the shipping and handling is an added $5.95 (Continental US). The one year membership to PAS Traveler is $29.95 per year.
All photos are available as stock photos in resolutions from 400x600 to 2500x1700 (approximate) and can be downloaded, sent by email (smaller images only, some large images are 10 mb or more) or shipped on CD via mail or we can set up a special FTP download directory if you are purchasing more than 1 image. Prints are shipped via UPS, normally within 7 days of ordering. Shipping and handling is $19.95 extra.
18x12 anodized aluminum frames (black) are available for an additional $39.00 (plus shipping)
All photos are ©Copyright 2007-2010 Paul A. Spade and must not be used for personal distribution or commercial use.