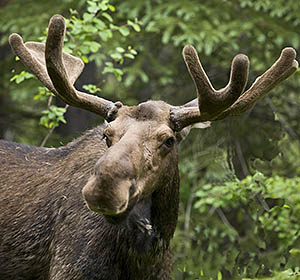 Our July 4th, 2008 trip to Glacier Park included trip to Many Glacier. We had a picnic lunch and then went for a quick hike on the Swiftcurrent Nature Trail. We walked just a couple hundred yards and saw this moose just a hundred feet off the trail. Since all I had brought with me wa a 24-75mm lens, I ran back to the car and got my 400mm lens and took these spectacular close up shots of the moose. He just stood there for over a half hour going from one tree to another eating the leaves off the trees.
Many Glacier photos Glacier National Park, the rest of the story (continued from the Saint Mary Lake page).
"By the time I got done photographing Saint Mary Lake, it was getting into early afternoon and I figured I missed my shot at Many Glacier. But, since it was only another 10-15 miles, I thought I might as well go over and see what shots were available."
"Driving by Lower Saint Mary Lake I noticed the lake was quite rough and I almost turned back, since even the sun was getting close to be being too far in the sky to allow me some good sky colors. But I was just about there, so I continued on. As I approached a spot where I could see Lake Sherburne, there it was again. A perfectly still, mirror surface beautiful lake shot. The mountains and shoreline were again reflecting perfectly off the surface of the lake. And there was still time to include the beautiful rich blue sky that Montana is noted for."
The Many Glacier Screensaver is available on our Screensavers of Glacier National Park cd and our PAS Traveler Membership
See the collection of Many Glacier area photos available in a limited edition of signed, fine 18"x22"prints. Click on the images for a larger view. You can order any of the images by calling TOLL FREE 877-229-3414 or 406-892-4484. We are creating a shopping cart at this time and should have this completed soon for those who want to purchase online. We accept Master card and Visa.


Order number June29_020 Price $90.00 18"x12" Print only
Beautiful reflection of the shorelines, mountain ranges and streaks of clouds on Lake Sherburne. In the foreground is brush along the right side. The sky is a deep saturated blue.


Order number June29_023 Price $90.00 18"x12" Print only
In addition to the perfect reflections, this photo of Lake Sherburne shows a touch of shoreline and the stone lake bottom.


Order number June29_005 Price $90.00 18"x12" Print only
This photo shows a larger stone rapidly disappearing lake bottom and rocks and stones creating a base for some unique deadwood on the shoreline. Trees and brush are visible behind the deadwood. I believe this is my favorite of this group.


Order number June29_005 Price $90.00 18"x12" Print only
What a setting, the Many Glacier Hotel with deep blue sky and streaking clouds hovering over the beautiful mountains. Can you believe this photo is taken from just off the parking lot?


Order number June29_005 Price $90.00 18"x12" Print only
Another photo of Many Glacier Hotel showing both buildings in the same setting as the above photograph.
The summer of 2009 so far (July 4th) has been beautiful with abundant moisture from the winter to make everything green and lush.
All photos are available as stock photos in resolutions from 400x600 to 2500x1700 (approximate) and can be downloaded, sent by email (smaller images only, some large images are 10 mb or more) or shipped on CD via mail or we can set up a special FTP download directory if you are purchasing more than 1 image. Prints are shipped via UPS, normally within 7 days of ordering. Shipping and handling is $19.95 extra.
18x12 anodized aluminum frames (black) are available for an additional $39.00 (plus shipping)
All photos are ©Copyright 2008 Paul A. Spade and must not be used for personal distribution or commercial use.